Awards
The Trustees are very pleased to receive reports from many awardees and some of these are included below, as well as illustrating the variety and breadth of awards made by the Trust.

Current and recent Research Projects

 

   
Recent Travel Awards

Erosion Control through use of filter socks to control runoff, sediment and nutrient losses from arable lands under extreme rainfall events (Cranfield University)

Workshop

 

Travel to attend CIGR/AgEng2016 conference 

Travel Award for MSc project - Malta

Report

Leaf-specific weed control on vegetable crops  (Reading University)
Report

 

Support for Engineers without Borders project, Malawi

Report

Effect of conservation tillage systems on the creation of optimum seed bed conditions for oilseed rape in UK  (Cranfield University)

Poster
CIGR paper

 

Travel Award for MSc project- Malawi

 

Travel to attend European Society Soil Conservation conference, Rumania

Report

The effect of low ground pressure and controlled traffic farming systems on soil properties and crop development for 3 tillage systems (Harper Adams University)

 

Support for travel Mexico- water treatment project

The design and control of a hybrid ventilation system for UK pig buildings (Harper Adams University)

 

Support for PhD students to attend Soils Conference, Rothamsted

Report

Novel EM Sensor for Measuring Fish (University of Liverpool)

 

Support for student group to attend 2016 Field Robot Event

Report

Pore size distributions in soils (Warwick University)

 

Support for travel to attend Thermal Management Symposium

Report

Ecosystem service delivery within a strip tillage system. Effect of tillage and fertiliser regime on provisioning service delivery

 

Support for travel to ASABE 2015

Report
  Other Awards
Support for IAgrE Young Engineers Competition

and IAgrE Mentoring Scheme   

Test equipment  (Holme Lacey College)

Support for Innovation Design Engineering course

Subsistence support for studies and support for student project work

Support to attend Six Sigma Green belt training course
  Studentship Awards
The Studentship Awards for 2016/17 were made on 15th February 2017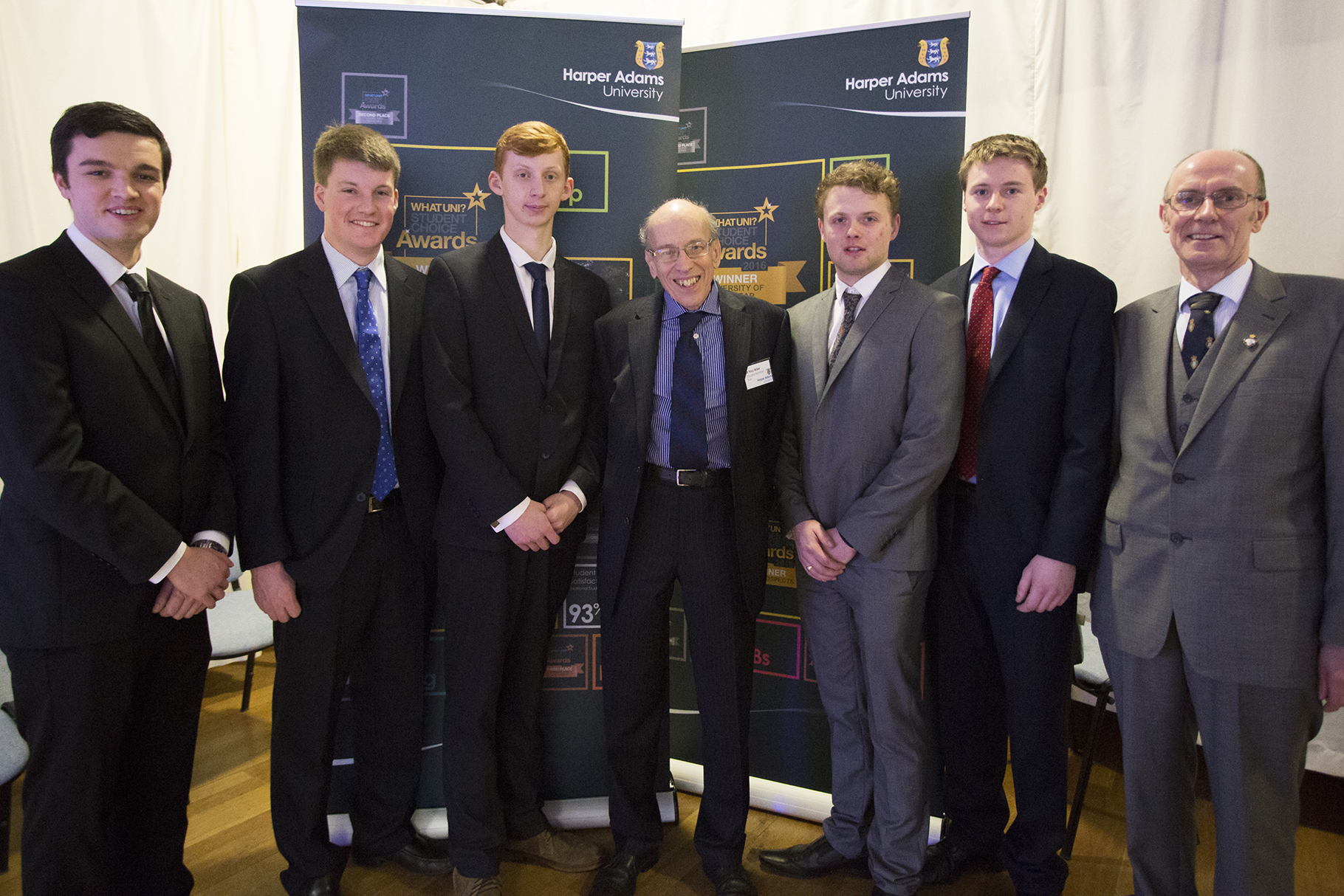 L-r Joe Robinson, Henry Thorpe, Alan Mobbs, Dr Paul Miller (Trust Technical Secretary), Chaunce Barrett-Crosdil and
David White (Trustee).
Paul Miller, Trust Technical Secretary congratulating Trust scholars, James Charnley and Adam Montgomery, on their graduation, September 2016